Laboratory facilities have a very different and peculiar working environment. New discoveries, developments and inventions take place here. The outcome is a 'creation' which eventually benefits mankind. The background of this creativity is huge knowledge base, persistence and the ability to work in an unknown and sometimes in unsafe environment too.
Given this scenario, imagine the situation where the surroundings are drab, shabby, un-organized and demotivating. It is quite often assumed that these work places are pure functional places and the people too are expected to work like machines. But has anyone realized that like machines/ equipment's humans too require specific room or comfort conditions to perform. They too require sufficient light intensity and space where they can work without any operational fear. The environment has to be conducive for research activity.
Laboratories share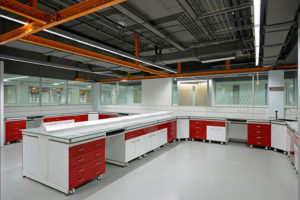 lot of functional similarities with a kitchen. Things have to be in the right place, with proper & easy accessibility and safe to use. It has to be understood that lab spaces are dynamic and hence they should not be planned for exclusive purpose or with permanent outline or research activity. The design of a laboratory is an outcome based on four major challenges: flexibility, safety, quality of environment and cost efficiency.
Having said so, who else than an architect, can understand these functional aspects and design it in a manner that they blend with engineering concepts. Architects are associated with aesthetics and creativity. Adding colour in right proportion to different types of spaces makes the environment vibrant and happening. Multiple materials, vibrant colours and forms, add visual interest and encourage conversations. Placing artwork at specific locations doubles as a communication tool. Compartmentalization that allows for visual communication enhances lab space and volume. Flexibility to accommodate future requirements comes with modularity and standardization.
If you have read this, then you know whom to approach, to design your lab.